Sand Matting: A type of surface treatment method for plastic films by sandblasting.
Applications

Functions

Processing Methods

Labels

Production Processing Films

Decorative Films

Adhesion Improvement

Transfer Foil

Given Design

Antiblocking

Friction Reduction

Blind

Hitting

Projecting

Slinging

Scraping
Sandblasting/sand matting is a technology to roughen the surface of plastic films by spraying minute sands. Through this technology, the concavo-convex surface gains a matte effect with a lower reflectance. The surface area can also be enlarged so that films possess various functions.
Sandblasting enables to provide a finer surface asperity than kneaded matting, and it is also better for the environment due to its chemical-free process.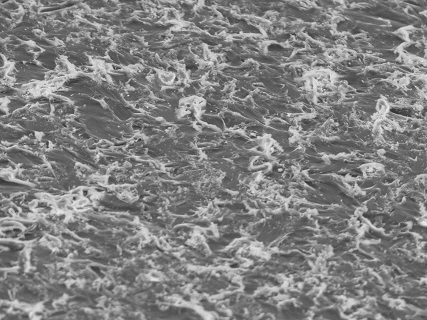 Sandblasted Film, SEM x500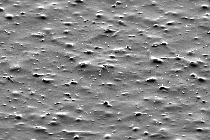 Kneaded Matte Film, SEM x500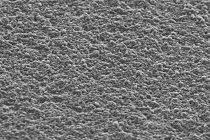 Matte Coating Film, SEM x500
Through shot-blasting(centrifugal-blasting), abrasive is supplied to the blades from the rotating impellers and sprayed using centrifugal force.
Unlike air sandblasting using compressed air, a large amount of abrasive can be sprayed per unit time, which makes it possible to enlarge the prosessable range.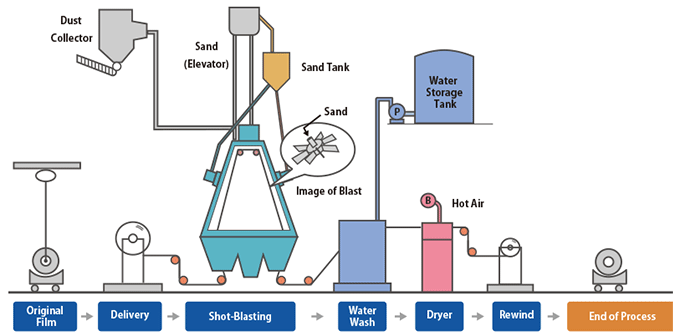 Clear Base Film (not matted)

Image of Blast

Sandblasted Film
| | Thickness(μm) | Width(mm) | The Maximum Diameter of Roll (mm) |
| --- | --- | --- | --- |
| Raw Material | 16~350 | 500~1550 | 650 |
Rolled films: PET, OPP, PI, other polyester films, and etc.
※Easily splitting films such as PMMA and PC are also available with back lined films.
Type A
(concentrated)

Type D
(standard)

Type S
(shallow)

 Clear Base 
(not matted)

Thickness of PET (μm)

50

50

50

50

Surface Gloss Ratio(%)

5.4

11.3

24.6

152.7

Surface Roughness(μm)
Ra

0.62

0.43

0.36

0.03

Surface Roughness(μm)
Rmax

6.56

5.09

4.45

0.44

Surface Tension of Water
(mN/m)

58~

58~

58~

38~40

Total Light Transmittance

92.2

93.5

91.4

90.0

Diffusion Light Transmittance

78.5

71.2

54.6

7.0

Parallel Light Transmittance

13.7

22.2

36.8

83.0

Haze

76.0

76.2

59.7

20.0

Dynamic Coefficient of Friction(Ave.)

0.36

0.35

0.41

0.40

Static Coefficient of Friction
(Ave.)

0.47

0.45

0.62

0.50
※The values in the table are measured data and are not guaranteed.
SEM x500

Surface Roughness (recording paper)

Type A
(concentrated)

Type D
(standard)

Type S
(shallow)

Clear Base
(not matted)
Applications & Functions(Effects)

Applications

:Building Material・Production Processing Films for Electric Materials・Industrial Separator etc.
| | |
| --- | --- |
| Functions(Effects) | Transfer Foil・Given Design・Matte・Shape Transer・Blind |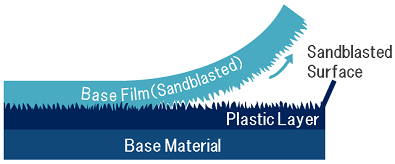 The shape of sandblasted(concavo-convex) is given on the transferred surface as a design.
Applications

:Printing・Lamination
| | |
| --- | --- |
| Functions(Effects) | Adhesion Improvement             |

The concavo-convex shape by sandblasted enlarges the surface area of adhesion.
| | |
| --- | --- |
| Functions(Effects) | Antiblocking・Friction Reduction           |

The point contact of a concavo-convex shape by sandblasted prevents materials stick together.
Kaisei Industries, Inc. specializes in processing of sandblasting, brushing, slitting, inspection, water cleaning and others for plastic films.

We are proud of our surface treatment technologies of sandblasting/sand matting and brushing/hairline with our own mechanical design. Films, which are processed with those technologies, are used in a wide range of industries such as industrial labels, processing base materials, and decorative films for electronic devices, automobile, home electrical appliance, building material, and packing.

To meet the high quality demand of products like slitting and inspection, processing in a clean room have brought high reliability from our customer for many years.