Hairline: A type of surface treatment method for plastic films by brushing.
Applications

Functions

Processing Methods

Labels

Production Processing Films

Decorative Films

Adhesion Improvement

Transfer Foil

Given Design

Antiblocking

Scratching

Our brushed films, which streaks like hairs are scratched on the surface of plastic films, are also called hairline. These films are available to present metallic designability, and we are proud of this technology have been adopted in various fields.
| | Thickness(μm) | Width(mm) | The Maximum Diameter of Roll (mm) |
| --- | --- | --- | --- |
| Raw Material | 12~300 | 500~1500 | 800 |
Rolled films: PET, OPP, PI, other polyester films, and etc.
※Easy splitting films such as PMMA and PC are available with back lined films.
Heavy

Standard2

Light

Clear Base
(not brushed)

Surface Gloss Ratio(%)

87

52

83

152.7

Surface Roughness(μm)
Ra

0.48

0.37

0.15

0.03

Surface Roughness(μm)
Rmax

11.96

4.72

1.31

0.44
×50  ※SEM for Clear Base : ×500
Heavy

Standard2

Light

Clear Base
(not brushed)
※The values in the table are measured data and are not guaranteed.
Applications & Functions(Effects)
Applications

:Labels・Decorative Films・Building Material・Production Processing Films for Electric Materials・Industrial Separator etc.
| | |
| --- | --- |
| Functions(Effects) | Transfer Foil・Given Design・Shape Transfer |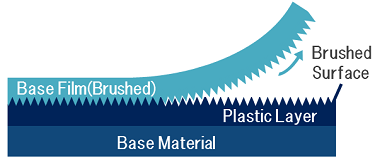 Brushed pattern is given on the transferred surface as a design.

As a substitute for SUS, metallic tone design is provided by metal deposition and ink.
Applications:Base Films for Coating
| | |
| --- | --- |
| Functions(Effects) | Antiblocking |

The line contact of brushed shape prevent materials stick together.
Labels・Sticker・Nameplate・Displays and etc.

Example
Processing Films for Decorative and Transfer Foil
| | |
| --- | --- |
| Appliances | Liquid crystal and Plasma display TV, Distal Camera, Refrigerator, Computers(high spec model) |
| Automobiles | Navigation and audio equipment, Shift Gate, Dashboard, Doors |
| Others | Bags, Suitcases , Bike(Rear and side box), Built-in Kitchen |
| In-Mold Molding | Transfer brushed pattern on plastic films into other materials such as resins. |
The Process of In-Mold Decoration(IMD)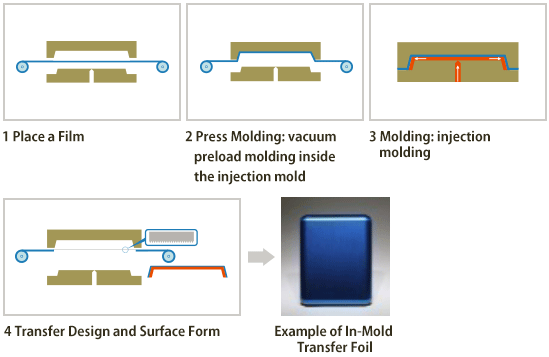 The Process of In-Mold Lamination(IML)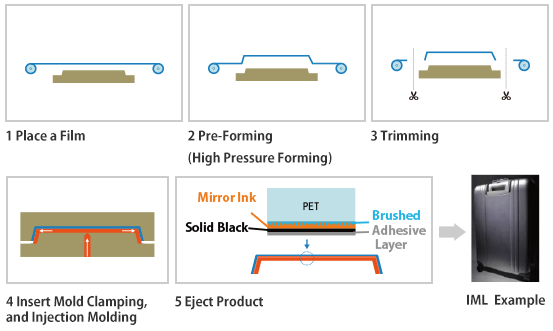 ---
Point Card

Business Card

Decoration Film

Metallic Designability
Kaisei Industries, Inc. specializes in processing of sandblasting, brushing, slitting, inspection, water cleaning and others for plastic films.

We are proud of our surface treatment technologies of sandblasting/sand matting and brushing/hairline with our own mechanical design. Films, which are processed with those technologies, are used in a wide range of industries such as industrial labels, processing base materials, and decorative films for electronic devices, automobile, home electrical appliance, building material, and packing.

To meet the high quality demand of products like slitting and Inspection, processing in a clean room have brought high reliability from our customer for many years.